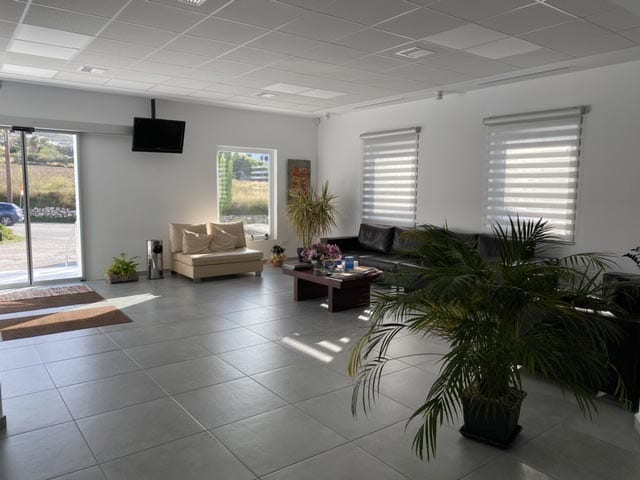 Doctor Eleni Peraki runs her ENT Medical Office in Paros daily during the summer months and 15 days a month from September to May.
There is the possibility of dealing with urgent ENT cases, adequate monitoring of patients and integrated postoperative care.
At the fully equipped ENT Medical Center of Paros, the otolaryngologist examines patients with the medical microscope and endoscopes, which clearly give more information than a simple examination.
Full auditive testing is provided for adults, children and infants.
The above are valuable diagnostics means for the evaluation of the ENT patient.
VERTIGO RESTORATION HANDLING
& HEARING AIDS
Cases of ligging position are treated in Paros without medications with therapeutic handling & immediate rehabilitation, as well as application of hearing aids from reliable partners.

INTERVENTIONS IN ENT PAROS MEDICAL OFFICE
Invasive acts can be performed by the ENT specialist in Paros, such as nasal cauterization and other minor interventions: drum & sinus puncture, nasopharynx biopsies, larynx, oropharynx, removal of a foreign body, microcysts & sparks of head, face & cervical, miniaturization of nasal joints with radio frequencies, saving the patient of unnecessary trips to Athens.
Doctor Eleni Peraki is a well known head and neck surgeon, who undertakes and carries out in Athens the full range of ENT surgeries.
Tonsils
Adenoids
Diaphragm & nose/larynx polyps
Thyroid surgery & salivary glands
Paranasal surgery
Contact us
Need to communicate with the doctor or get answers to your questions?
Use the contact form below for a prompt professional response.
Send us a Message
Contact Information
Write us an e-mail via the form,
or schedule an appointment directly:
Phone: +30 2284021075
Mobile: +30 697 4441293 
Email: [email protected]
[rev_slider alias="expanding"]